Above - Bono says WELCOME!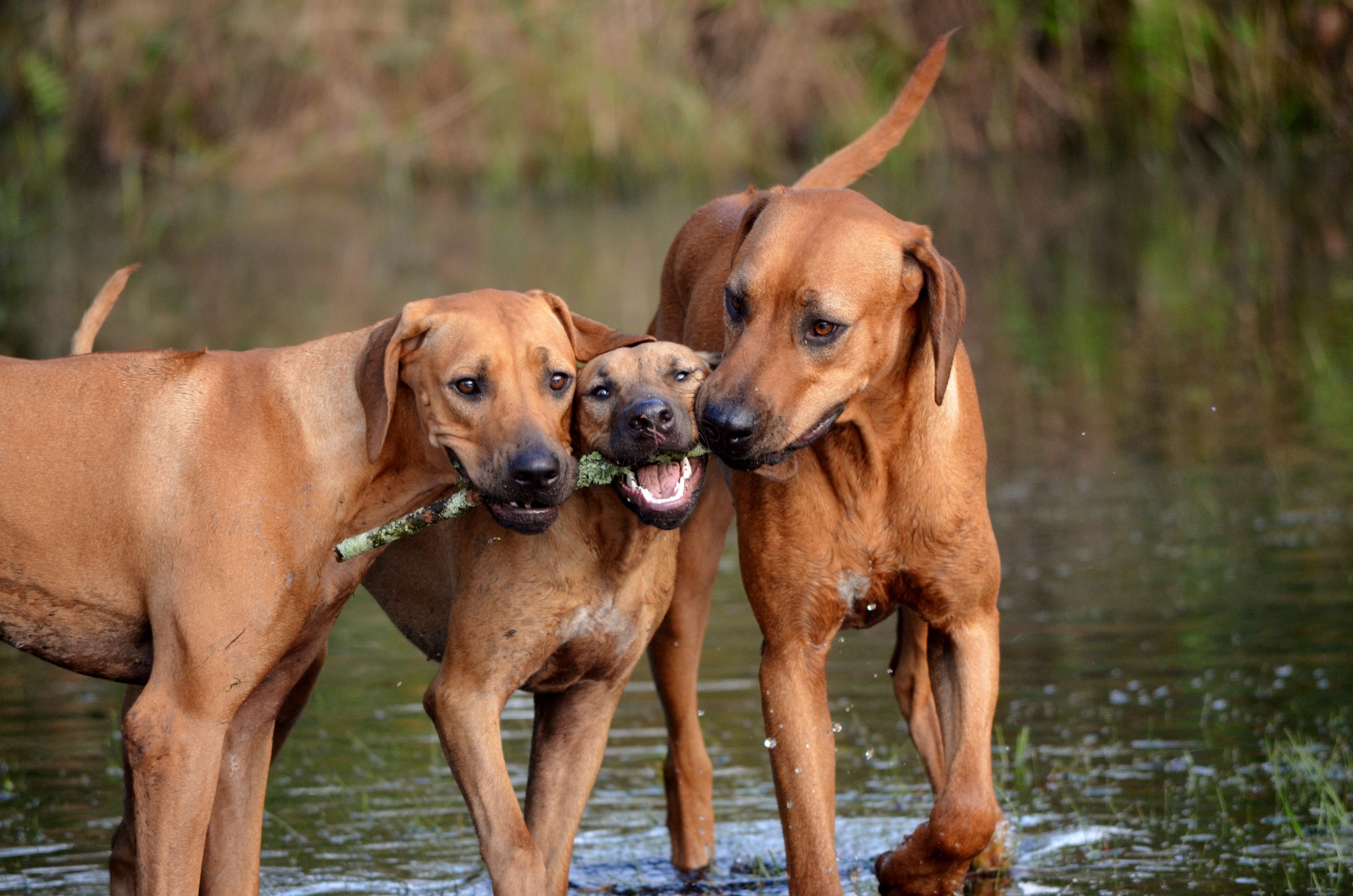 Please click on each dog's picture to go to their own photo page!



AM/INT'L GCH KENGALI'S EDGE OF THE HIGHLAND RIM BY PRESIDIO  "BONO"
dob 5/14/15

GCH RAVIRO CHIPOSHI REMINGTON RIMFIRE, JC X GCH/DC HIGHLAND RIM'S EILIDTH BY KENGALI, SC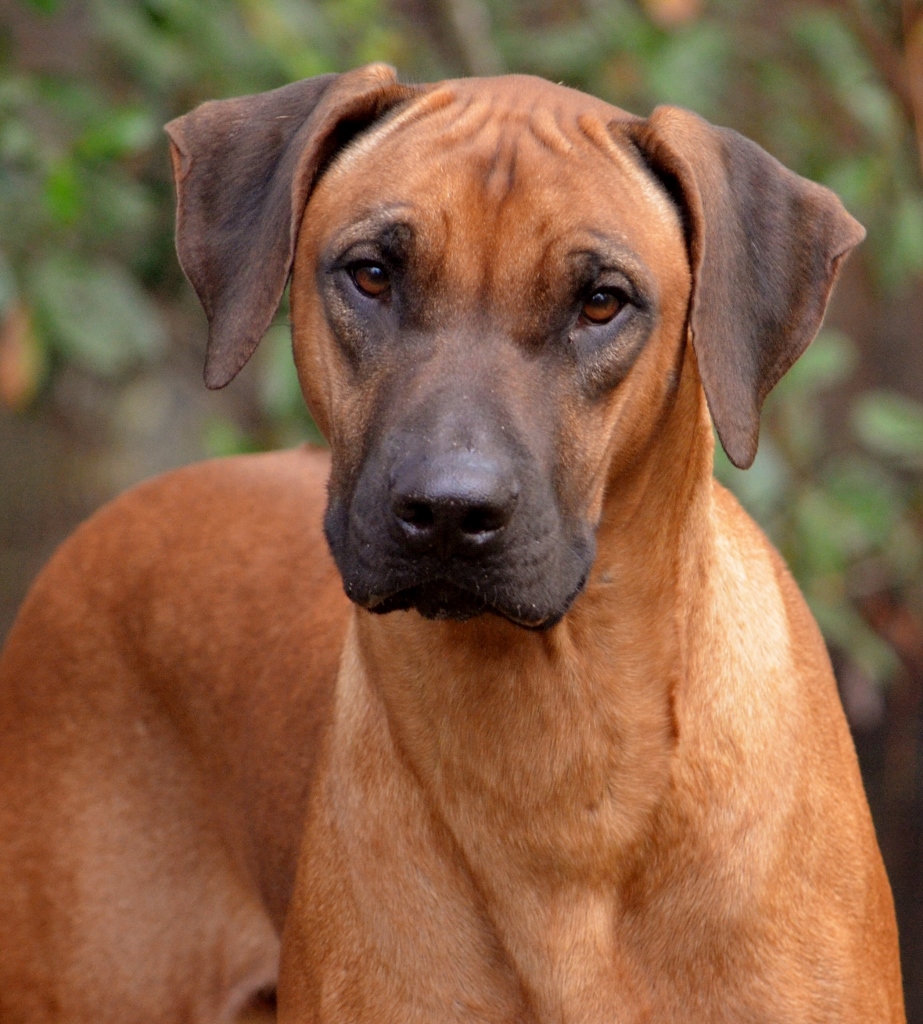 Bono joined our pack in July 2015 and quickly wormed his way into all of our hearts and is an excellent addition to our gang!   He is such a love muffin!!  He did what every other growing pup does here....quickly made for Strider to make friends and to have him to snuggle up to!  He has quickly adjusted to life on the farm and spends hours each day romping around with his buddies exploring and sadly, wreaking havoc on the gardens.  He began his show career at 7 mos. with a bang during Eukanuba week in December with 3 Reserves and 1 win in 4 shows!   He finished his Championship in style in June at 13 months of age and then went on to achieve his Grand Championship.  He finished his International Championship in October, winning Best In Show Bred By Exhibitor!  So thrilled for this young boy!!


BONO'S PEDIGREE
BONO'S HEALTH CLEARANCES  DM - Normal, EOAD - High Confidence Clear


AM/INT'L GCH KENGALI'S RED VIPER    "OBERON"
dob 4/22/16

GCH TERRA CHRISTA'S VIGO OF ISIS x GCH AARIEL'S WINTER IS COMING TO KENGALI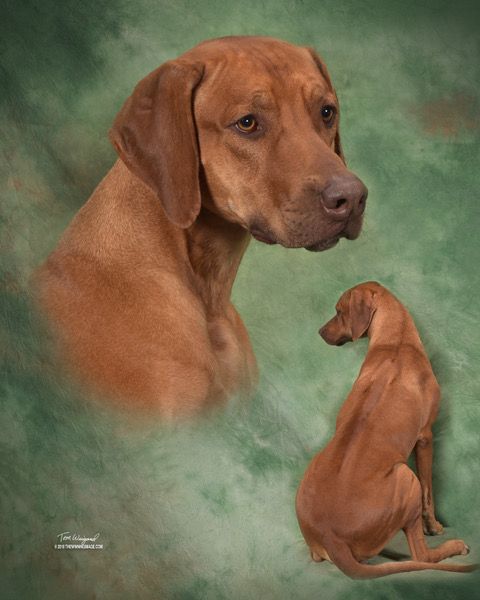 Oberon is our handsome LIVERNOSE boy...a TRUE lovernose!!! He is truly a hunka hunka burnin' love!  He decided early on that he wasn't leaving here, that this was his home for life...and so it was.  He's been a terrific pup - doesn't get into trouble, house trained easily, plays well with others...and is NOT a counter surfer.  Yet, anyways!!  Oberon started his show career in spring, 2017, and with limited showing earned his Championship in May 2018 and quickly went on to earn his Grand Champion title!  LOTS of adventures ahead with him!!
OBERON'S HEALTH CLEARANCES   DM - Normal, EOAD - Carrier
CH KENGALI'S O'DARK THIRTY   "HUEY"
dob  3/3/16

CH ROKISHOAL'S UNDENIABLE AT HUNTER'S RIDGE x GCH KENGALI'S KISSED BY FIRE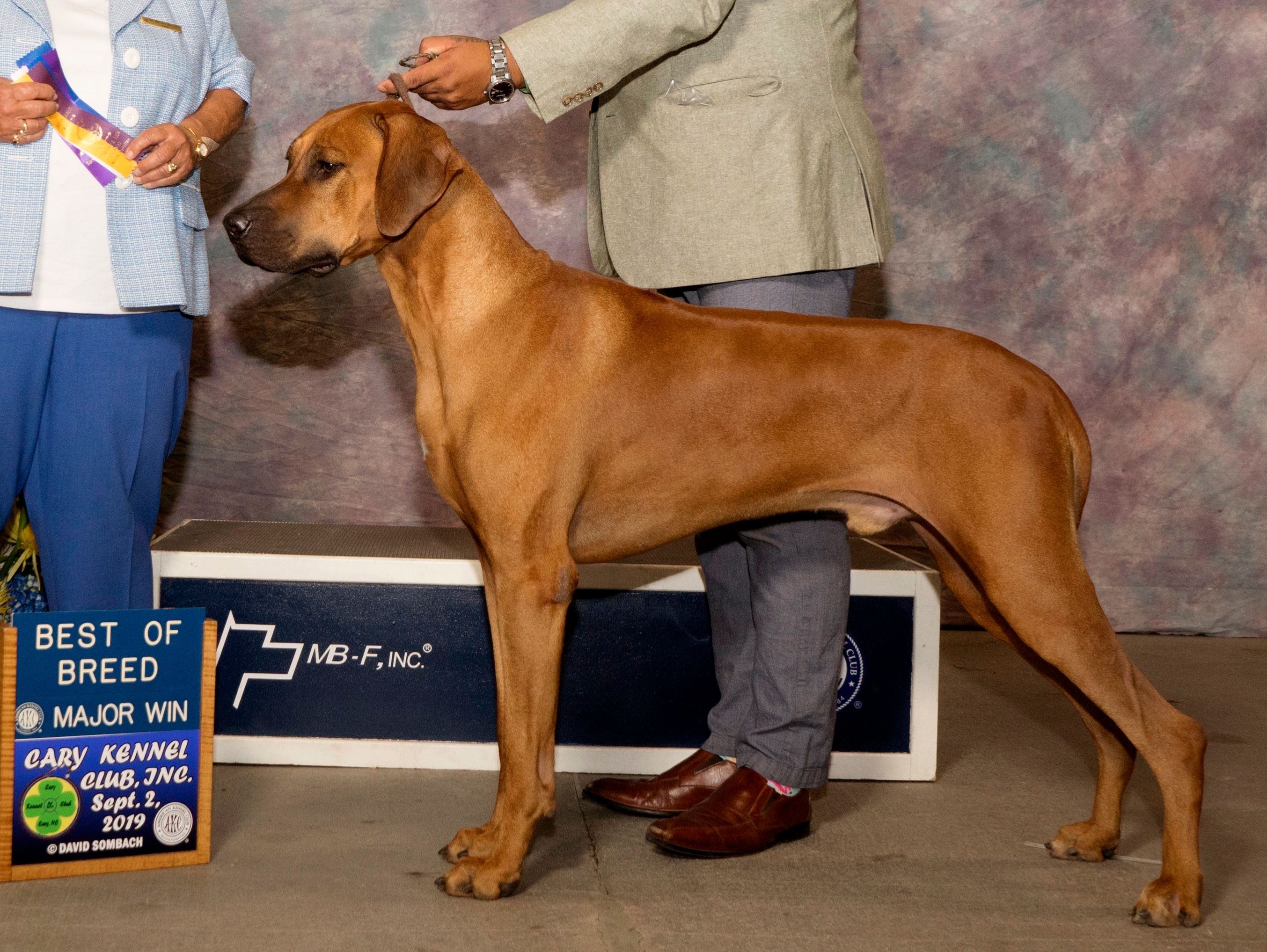 He is our sweet lovable big boy who is co-owned and loved by Doug and Jan Pope here in Florida.  Named after Doug's beloved helicopter that he  used to fly back in Vietnam, Huey has become his boon companion and support dog.  Doug finally agreed he could part with him long enough to show him and he hit the show ring with a BANG!  Finishing in just three weekends of shows, we couldn't be more thrilled!   He is a very affectionate, playful guy who makes himself right at home when visiting here on the farm.  
GCH KENGALI'S WINTER LEGEND   "FINN"
dob 1/18/17

GCH KENGALI'S CAPTAIN'S LAST COMMAND x GCH AARIEL'S WINTER IS COMING TO  KENGALI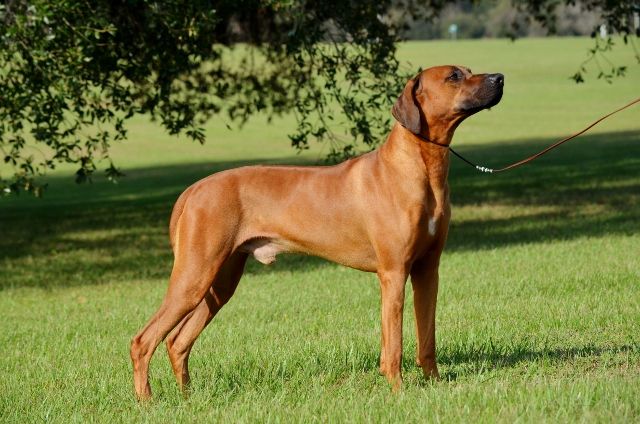 Finn is our newest Grand Champion, son of Arya and Legend, littermate to Reine Marie and loved and owned by Beth and Rick Nolan.  He is a gorgeous, dark red wheaten boy with the sweetest temperament!  He is smart and bright and loves nothing more than going out for his daily romps with his people and brother, Rip!  He finished his Championship easily, owner handled by Beth all the way!  On to Grand Champion after that, again, accomplished easily by Beth!  Very proud of their accomplishments and look forward to many more adventures!!
AM/INT'L CH KENGALI'S UNBRIDLED  GUARDIAN, BCAT   "DENBE"
dob 9/16/19

CH KENGALI'S UNBRIDLED CHARM X AARIEL'S ON THE RED CARPET WITH KENGALI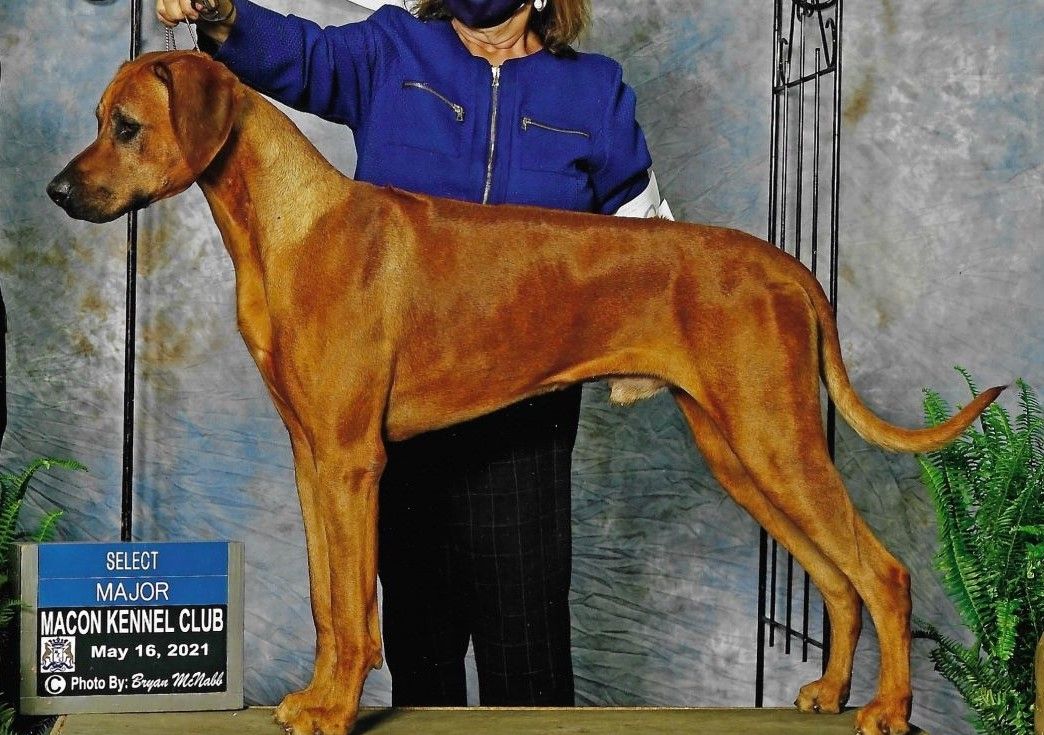 Denbe is our long awaited son of Charm and is totally living up to our expectations!  He's a big, beautiful, goofy youngster who loves farm life, happily playing in the pastures and pond with his buddies.  Never a dull moment with him!  His mother, Ariana, is Huey's littermate, so keeping it all in the family, so to speak!  He began his show career a little late due to Covid, but earned his International Champion title easy in November, and then in his 3rd time in the AKC ring at 13 months, he earned a 5 point major, pictured above.  He finished his Championship on March 7th with 4 major wins!   We're going to have a whole lotta fun with this boy over the upcoming months, for sure!!
Denbe's  Pedigree

Denbe's Health Clearances:  OFA Prelims - Excellent hips,  normal elbows, DM Clear
CH KENGALI'S BELIEVE IT OR NOT, TOO   "RIP"
dob  9/30/18

GCH KENGALI'S EDGE OF THE HIGHLAND RIM BY PRESIDIO x GCH KENGALI'S KISSED BY FIRE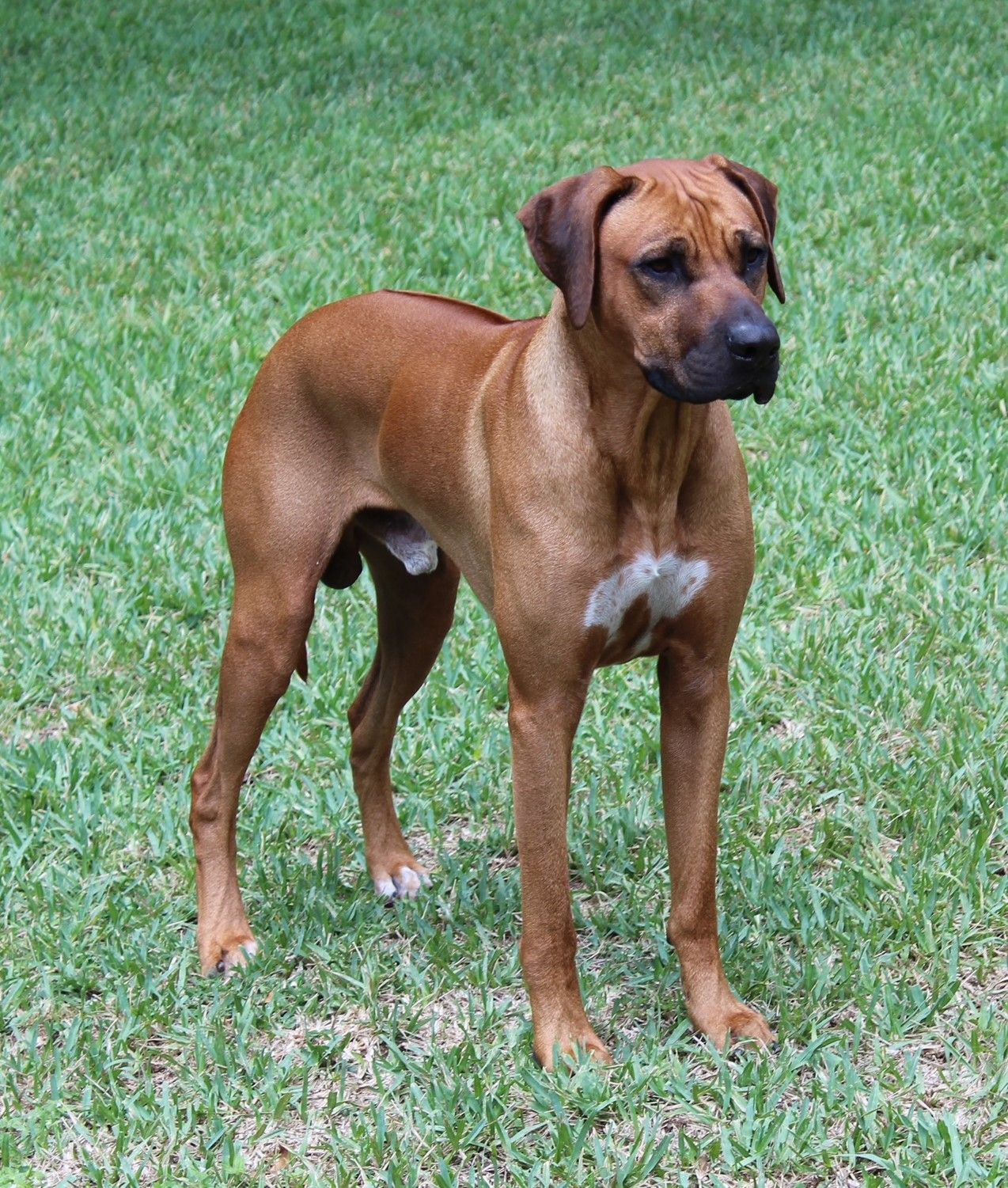 Rip is a handsome son of Bono who is owned and loved by Beth and Rick Nolan.  As with their boy, Finn, Rip has been owner handled all the way and is currently working towards his Grand Championship.
Rip's Health Clearances     DM - Carrier, EOAD - Clear

AM & INT'L GCH AARIEL'S WINTER IS COMING TO KENGALI, HIC   "ARYA"
dob 6/5/13
MBIS BISS GCH ADILI'S AMERICAN IDOL X GCH HUNTER'S RIDGE SHE'S OUTRAGEOUS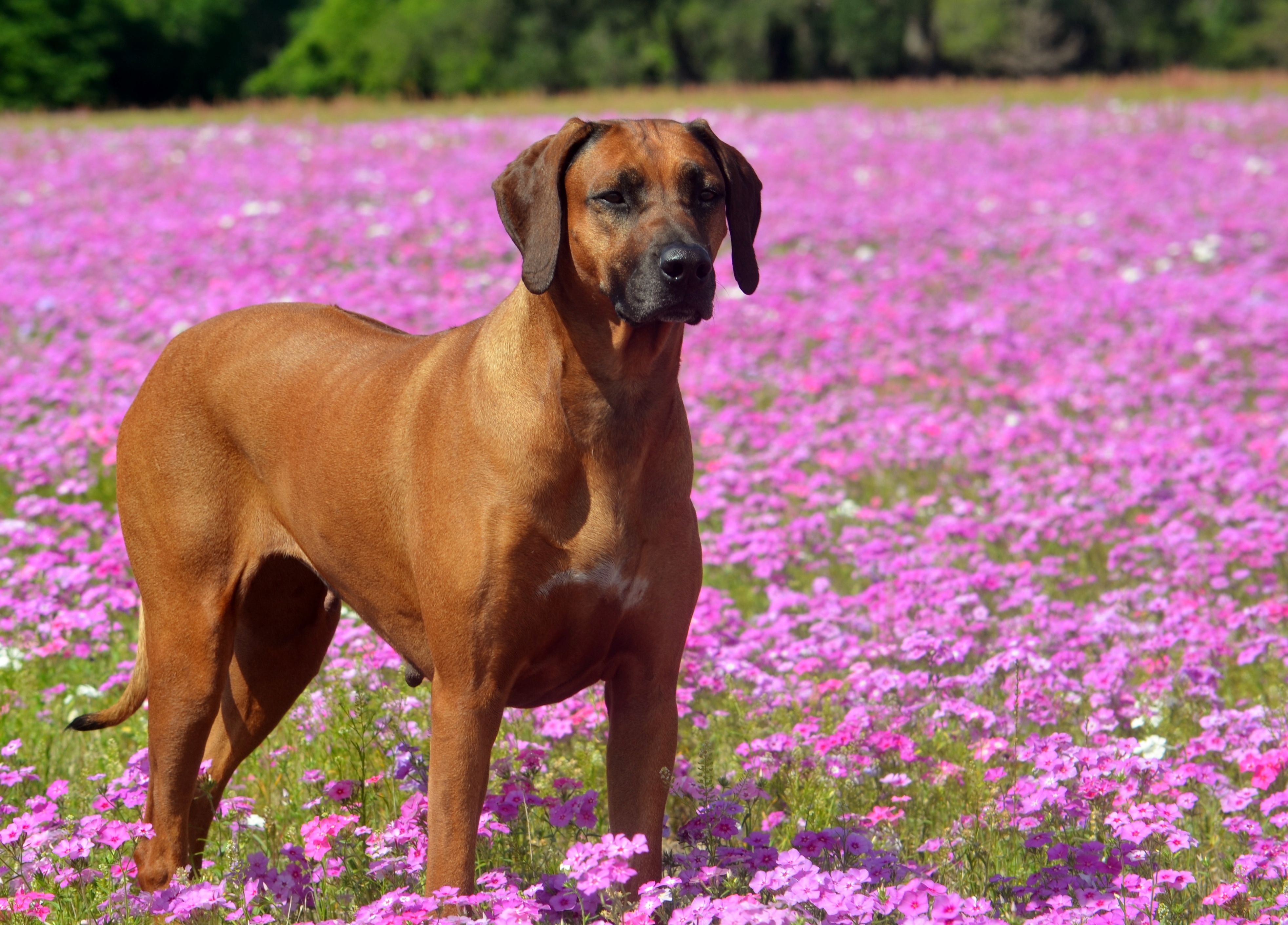 BABY GIRL!!!!!    Arya is a SWEET addition to our family, bred by Stacey Ford and Carol Burridge, Aariel Rhodesians.  She has certainly lived up to all of my expectations and more!  She is my Baby Girl and she knows it!   Her sire, Spirit, is also Ella and Jethro's father and one of my all time favorite Ridgebacks, so adding her to the pack only made sense.   In April 2014 she earned her Herding Instinct certificate, proving once again, that ridgebacks can be very versatile, especially if started young!   She earned her Championship title in September 2016, quickly followed by her Grand.  She also earned her International Champion title at an early age in November 2014.  Her motto, if she had one, would be "Life's a Beach!"  She absolutely LOVES going for as many beach runs as she can get!

Arya's Health Clearances   DM - Carrier   EOAD - Clear
Arya's Pedigree
KENGALI 'N TERRA CHRISTA'S DUCHESS OF DECEPTION  "HETTY LANG"
dob 8/25/14
GCH HUNTER'S RIDGE SURE SHOT BY KWETU  "MANNY" x CH KENGALI DULSIS ISIS OF TERRA CHRISTA  "ISIS"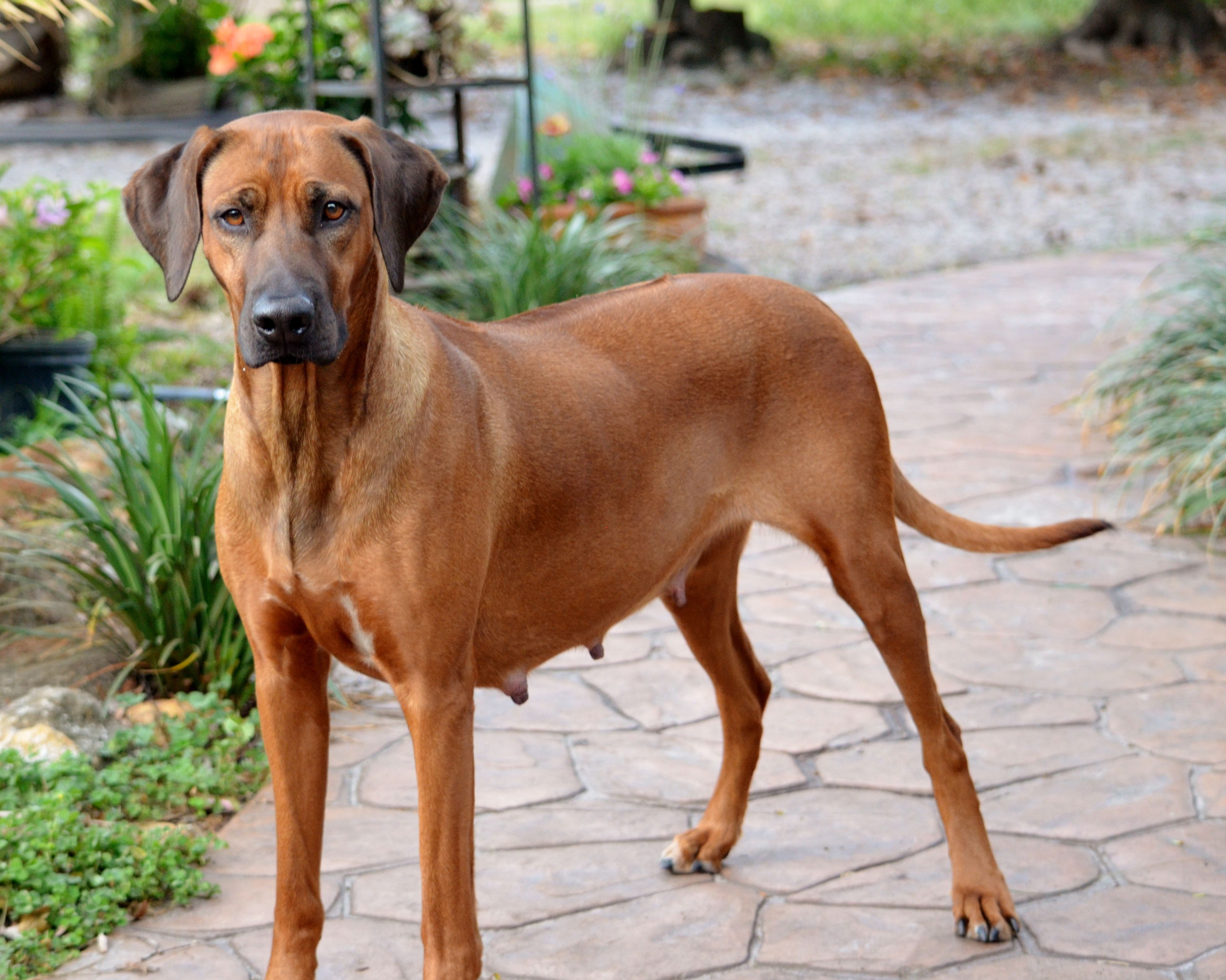 Hetty is our joyful little girl who is the best combination of both her parents!  She is bold and outgoing and growing into a real beauty.  She started her show training early on, and in her very first show in Perry, GA, won Winner's Bitch!  She has her mother's powerful movement and her daddy's fierce competitive spirit.  Here on the farm, she and her buddies spend endless hours seeking out new things to get into, much to my dismay!  Let's see.  Two blueberry bushes....destroyed!  One gorgeous rose plant, un potted....hopefully will survive!  Plastic flower pots....too numerous to count... destroyed!  Yep!  You get the picture!  Ah, gotta love the youngsters!  This, too, shall pass ....just like teenagers!!  I'm sure we have many adventures ahead of us!!
Hetty's Pedigree
Hetty's Health Clearances   DM - Carrier, EOAD - Clear


AM & INTL CH KENGALI'S DIVINE INSPIRATION  "DUMA"
dob 1/16/15
GCH KENGALI'S BEYOND BOUNDARIES x CH KENGALI'S PERFECTLY POSH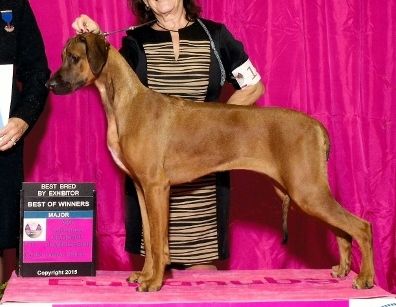 Duma is our little powerhouse from Tori & Jethro and is an amazing little girl!  In her first show, she won 3rd place in a very competitive class at our National Specialty show in September 2015. Her 2nd time in the ring, at our Regional Specialty in Orlando in December, she won Best of Opposite in Sweeps and was Reserve Winners to a 4 pt major.  She topped that off the next day, showing at the Eukanuba National Championship show and brought home her first win - a 4 point major, Best of Winners and Best Bred by Exhibitor!  I am beyond thrilled and in awe of this beautiful girl!  Like her mother, she is sassy, but sweet, obedient, but an instigator for causing trouble - let's NOT talk about my plants!!! and a beautiful, beautiful girl.  She was back in the ring in the Spring 2016, and quickly finished her championship in September 2016 with her 4th Major win.  
KENGALI'S WINTER ROSE, JC   "REINE MARIE"
dob 1/18/17
GCH KENGALI'S CAPTAIN'S LAST COMMAND x GCH AARIEL'S WINTER IS COMING TO KENGALI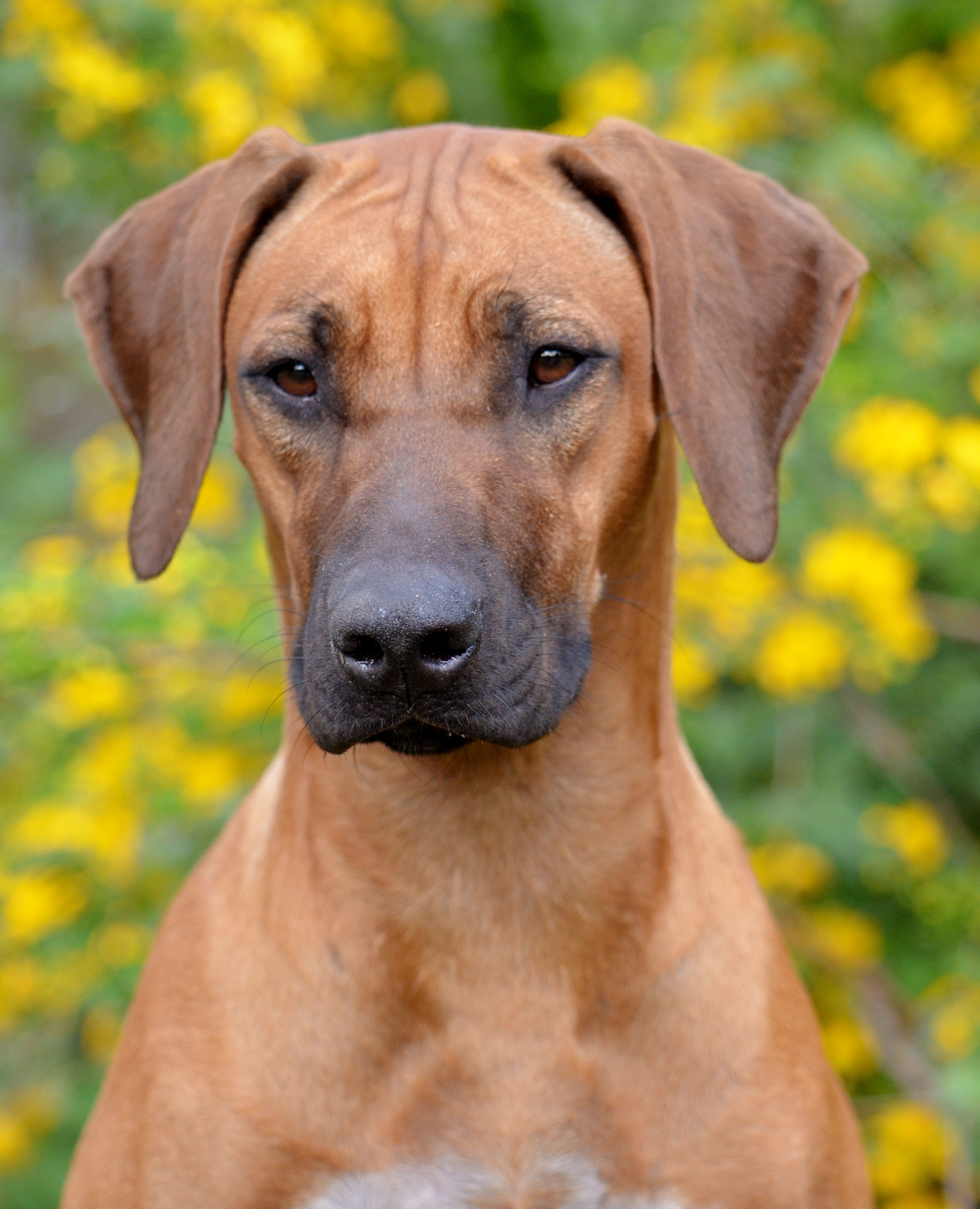 Reine Marie is our beautiful Legend/Arya daughter and is my joy!  She is a happy, happy soul who spends endless hours entertaining herself hunting lizards and moles all around the farm.  Endless hours!  There are a ton of holes to prove her ability in tracking those underground devils!  Unfortunately, some of my plants get in her way.  Deep sigh.  She and her buddies would much rather spend their days out romping thru the water and woods. Did I mention the endless hours of hunting?  Yes.  Endless!  Needless to say she is very fit!  Unfortunately this also affects her love of showing!  Which she HATES!  We gave it our best shot, but have decided to let her just be her happy self on the farm! C'est la vie!
CH KENGALI'S THE POWER OF ONE   "FALLON"
dob 6/17/18
CH ILLIMANI'S KICKSTARTMYHEART FM x GCH AARIEL'S WINTER IS COMING TO KENGALI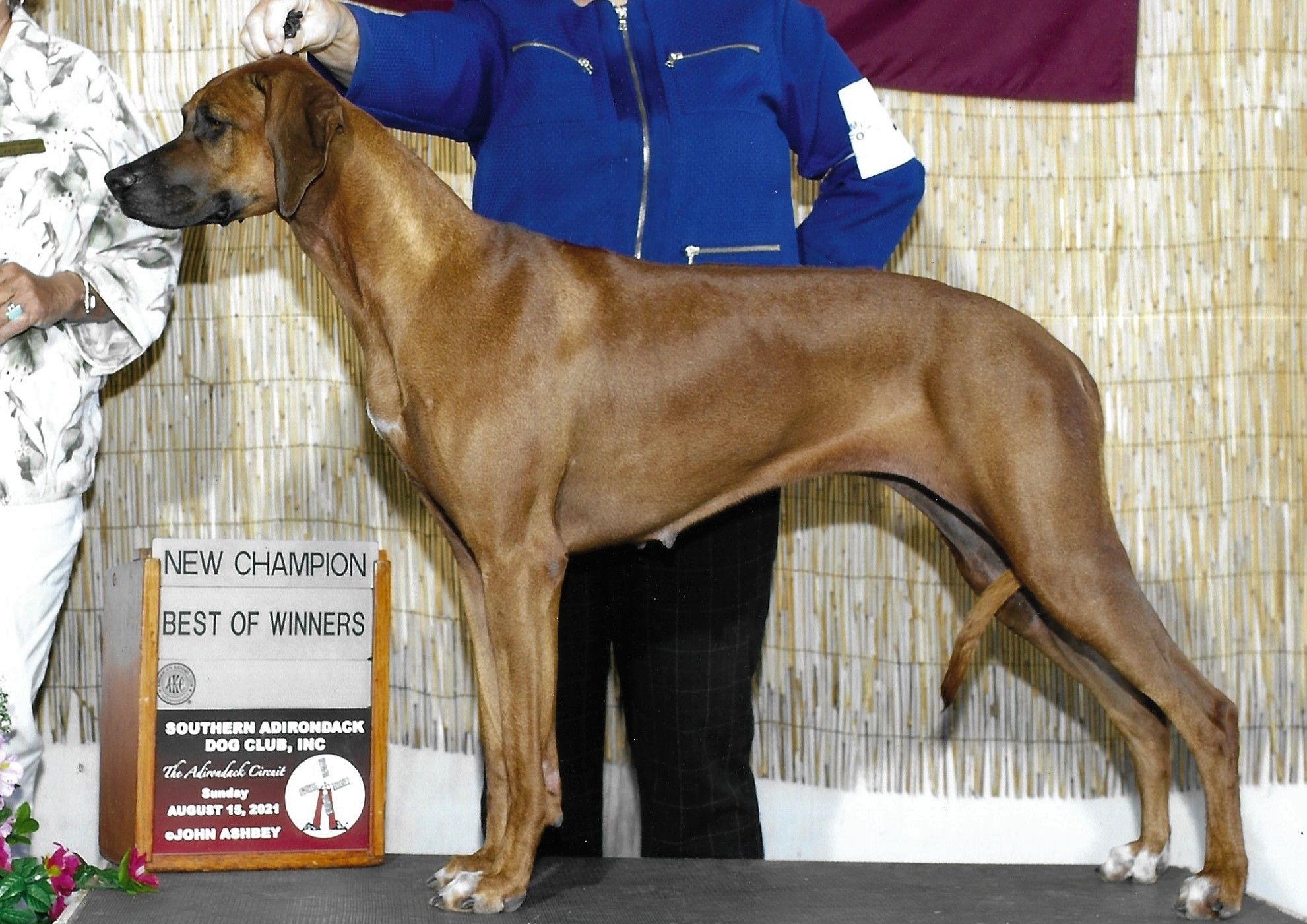 Fallon is another of our beautiful daughters of Arya who is an absolute joy to live with!  She has done well in the show ring, finishing her Championship with 3 majors and 3 singles!  Her sire, Cam, was the sire of our foundation bitch, Sachi, and thanks to frozen semen, we have him back and up front in our bloodlines.  While Fallon does enjoy the show scene, unlike her sister, Reine Marie, she is much happier snuggled up on the couch with me when she can!
CH AARIEL'S DESTINED TO REIGN AT KENGALI  "SIBA"
DOB  12/21/19

GCH ROLLING'S ANSEL ADAMS BY SPRINGVALLEY X CH AARIEL'S NOW TRENDING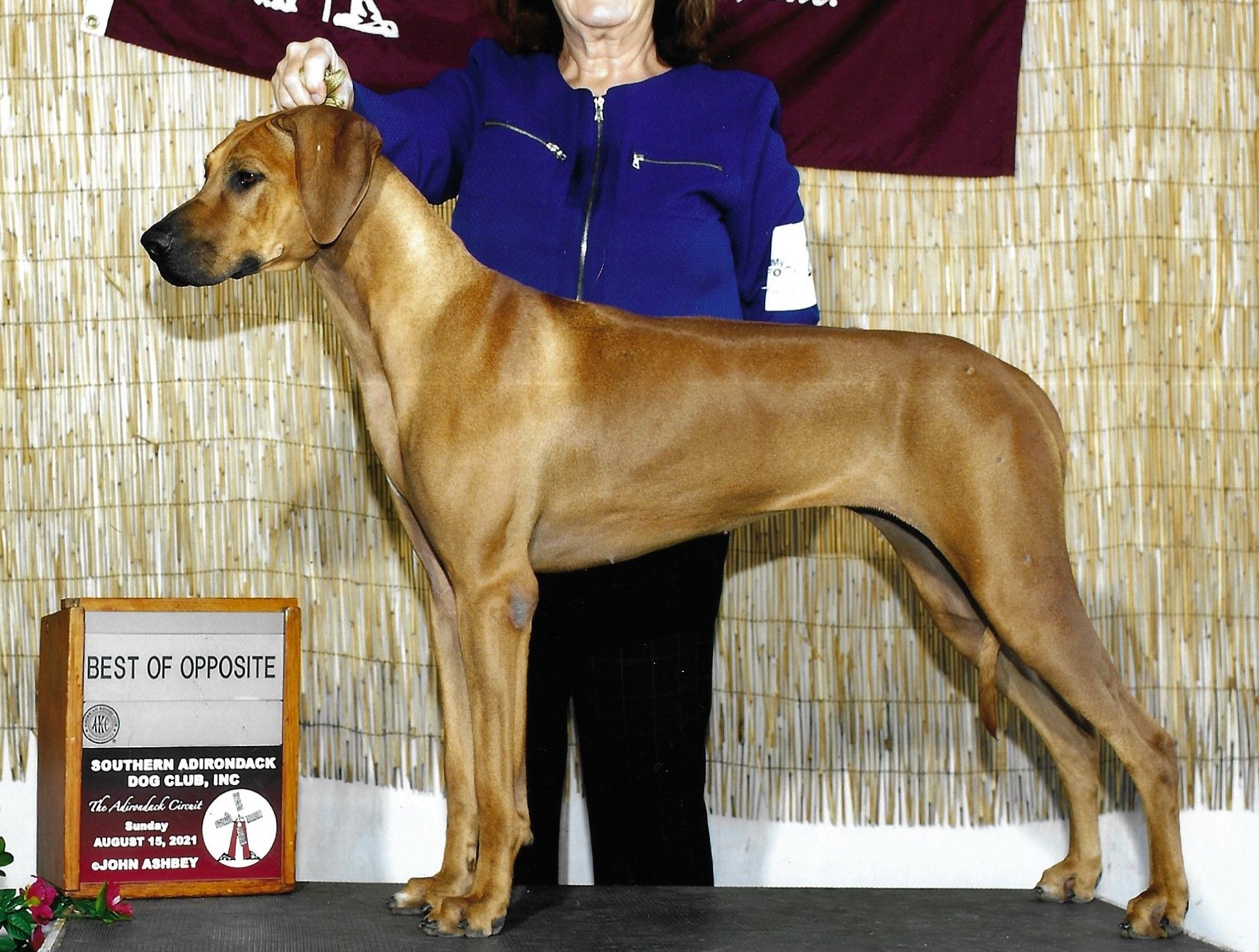 Siba was bred by my good friend, Carol Burridge, from Aariel Rhodesians.  While our Charm is her grandpa, she brings fresh bloodlines to our pack and we have high expectations for this beautiful girl!  She is a fun loving girl who loves to romp around the farm, getting into whatever mischief she can!  She and Denbe are inseparable and are never far apart!  She has also done well in the show ring and we are happy to announce she has completed her mission and can add Champion to her name!